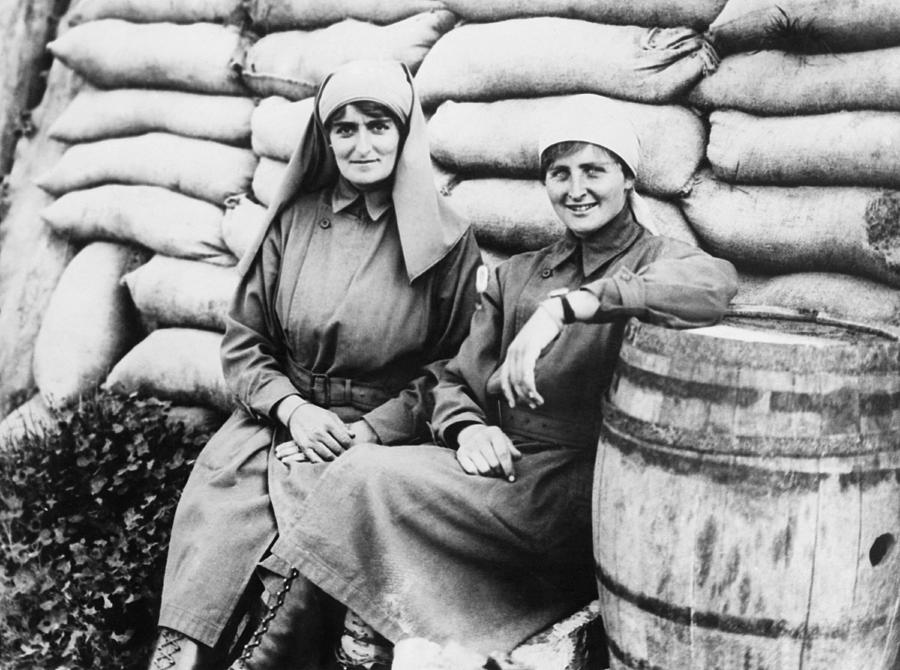 In my last blog I wrote about the Scottish women who ran the hospital at Royaumont Abbey.
They were an amazing collection of women; and that hospital was only one of many organised by the Scottish Women's Hospital. The following extracts are from the very informative Woman's History Network Blog.
The 4th of August 1914 saw Europe submerged in the darkness of war leading people to be occupied with the thoughts of all the horrors and cruelty that war would bring. In a small room in Edinburgh, Elsie Inglis sat in the offices of the Scottish Federation of Woman's Suffrage Societies where she hatched a plan to supply a woman's hospital to the battlefields. So began the SWH. Modestly enough with a goal of £1000 to launch one hospital, by the end of WW1 nearly £500,000 had been raised. With 14 fully equipped field hospitals in Serbia, Belgium, France, Russia, Romania, Corsica, Corfu, and Greece. 
Between 1914-1918 it was estimated that some 1000 women served in the SWH. The women worked in terrible conditions, often working themselves to exhaustion and going without food, sleep and regard to their own safety. In the hospitals every inch of space was occupied, sick and wounded lay crowded together, men who had just undergone the amputation of limbs, men in the grip of typhoid, dysentery or frostbite. Men waiting to die and men already dead. Many of the women themselves were struck down by typhus, too exhausted to combat the fever.
In Serbia, Dr Elizabeth Ross, who knew the hospital had a typhus outbreak and despite only being in Serbia for 3 weeks, demanded to be posted there.
She died of the disease in February 1915 and in the weeks that followed sisters Louisa Jordan, Miss A Mingull and Miss Madge Neil Fraser also succumbed to typhus. Despite all this, the SWH went on to save the lives and bring back to health some 300,000 men, woman and children.
For many of the woman the experience of serving in the SWH went onto be a huge personal adventure. Katherine McPhail studied medicine at Glasgow University and qualified in 1911. During WW1 she worked as a doctor in France, Serbia, Corsica and along the Salonica front. Following the war she set up the First Children's hospital in Serbia and stayed on in Belgrade before retiring to St Andrews in 1947.
Olive Kelso King was an Australian who joined the SWH as an ambulance driver in Belgium and went onto serve in France and Salonica. Leaving the SWH in 1916, she joined the Serbian army as a driver and was awarded the Serbian silver medal for bravery after saving the lives of the patients during the great fire of Thessaloniki, during which she drove non stop for 24 hours.
Elsie Bowerman from Tunbridge Wells, who in 1912 had been rescued from the Titanic, joined the SWH in 1916 and served in Serbia, Romania, and Russia. There she witnessed the overthrow of the Tsar, Nicolas II in St Petersburg and in 1924 she became the first woman barrister to practice at the Old Bailey in London .
Flora Sandes joined and became the first woman to be commissioned as an officer in the Serbian Army and the only British woman to officially enroll as a soldier during WW1. She moved up the ranks to Sgt Major after she pursued an extraordinary adventure going on the great Serbian retreat and at one point was shot on a mountain during combat. After the war she settled in Belgrade and married a fellow soldier. During WW2 she and her husband were both imprisoned by the Gestapo in Belgrade but thankfully she survived the war and later returned to the UK where she spent the rest of her days in Suffolk.
What on earth did she find to do in Suffolk!
The Scotsman has more information which forms part of an appeal to have these women recognised in their home country:
Dr Elsie Dalyell
Dr Elsie Dalyell was one of the most respected and experienced doctors who worked at Royaumont during the war.
Although brought up in Sydney, she and her family were originally from West Lothian and had emigrated to Australia during the late 19th century – where she trained as a doctor after leaving school.
When war broke out she was quick to offer her services as a medic to the army and ended up travelling to Gallipoli with the Anzac forces during the first year of the conflict before joining the Scottish Women's Hospital Service in Serbia in early 1915.
At 34, she was one of the oldest doctors in the unit based at the ruined Abbey. But alongside her comrades, she was able to help transform the crumbling church – which hadn't been inhabited for more than 50 years – into one of the best field hospitals in France.
She led a team of doctors and nurses who treated many of the badly wounded soldiers from the battlefields. With 600 beds and a fully equipped laboratory, the hospital became a vital place for front-line treatment and prided itself on its low mortality rate – less than two per cent of the total 11,000 patients treated there died.
By the time it closed in 1919, it was the longest continuously-operated voluntary hospital in France and Dr Elsie Dalyell had come to be regarded as one of the most distinguished of its "doctoresses".
"These girls who went out to treat the wounded were all absolutely heroic," says former Linlithgow MP and Father of the House Tam Dalyell, who is Dr Elsie's nephew. "And Elsie was no different. She was a formidable lady – a real toughie who was keen to do as much as she could and go wherever she was needed.
"After the war, she continued to work as a doctor and by 1920 was practising in Vienna, where she became a world expert on rickets."
The 73-year-old adds: "Then, when she returned to Australia, she became a firm friend of my mother who managed to keep in contact with her and found out about the work she'd done with the Scottish Women's Hospitals. But all of the women who went out there did such a tremendous job. They had the barest of equipment and used converted cars as makeshift ambulances, but the work they did helped to save so many lives.
"When you think that they must have seen the true horrors of warfare but just got on with what they felt they had to do, it's an amazing achievement."
Ariadne Dunderdale was in her early 20s when she left her home in the affluent outskirts of Edinburgh to sign up with the SWH.
After telling her parents that she wanted to become a nurse – much to the family's disappointment, since her father didn't believe it was a fitting occupation for a well-to-do young woman – she left Scotland and travelled to London in 1913.
But it was while she was working as a fully-qualified Sister, that she joined Inglis in travelling to France when war broke out.
"She always spoke very fondly of her experience there and enjoyed it very much," explains Ariadne's daughter Margaret Oddy, who is in her mid-80s and lives in Newington
"She didn't really have many daring anecdotes or heroic tales. I don't suppose many of the women who went out there did, as being on the front line became a normal part of their everyday lives rather than an exciting adventure.
"She and the other nurses helped a lot of men who had been wounded and I'm sure they saved an awful lot of lives.
"However, she did say that it could be quite difficult at times. Not just because of the horrific injuries or death that they saw every day, but more because there were a lot of Algerian and Moroccan men fighting in the war and they didn't speak any English.
"Because the nurses and those soldiers couldn't understand or speak to each other, the men were a little distrusting about what the women were doing. When they were brought to the hospital, they seemed to be very afraid that the nurses were going to cut them up or leave them to die when, in fact, they were there to do everything they could to help."
Dorothy Littlejohn
Dorothy Littlejohn was a trained cook who had graduated from the Edinburgh College of Domestic Science when she decided to offer her services to the war effort.
The daughter of medical pioneer Sir Henry Littlejohn, the first Medical Officer for Health in Edinburgh, she didn't share her father's views on the value of women doctors and didn't even approve of the suffragette movement – instead deciding to perform the more "womanly" duties of cooking for the hospital.
At 38, she was one of the oldest volunteers at the Abbey when she headed to Royaumont in 1915.
"She was one of the first women to go out there," says her daughter, 85-year-old Rachel Hedderwick. "And at that time, the Abbey hadn't been occupied for many, many years. There were no lights or facilities, so they were really starting completely from scratch.
"There was no running water there and only the most basic of cooking equipment, so it must have made life very difficult.
"And because the hospital was staffed by women, they all had to help carry stretchers up the steep stone steps and drag equipment into the wards. It was really a very heroic team effort."
Dorothy was only at Royaumont for six months before she returned to Scotland to get married, and on her departure she was presented with a travelling clock by her orderlies – inscribed simply, but touchingly, "to the hand that fed us".
Rachel, who now lives in Bridge of Allan, adds: "She kept a diary and wrote letters to my father which mention some of the things that she saw in France but she didn't talk about it to us. It was only much later on that I discovered about the kind of work she'd done. All I can remember her saying were a few recollections about going out into the countryside with the other women there and how much she liked it when the soldiers went out into the forest and picked wild flowers for her.
"But it must have also been terrifying at times. They weren't very far from the battlefields and could hear the guns firing in the distance, so it was a dangerous place for them.
"
THERE are numerous statues and monuments erected in France and Serbia to commemorate Dr Elsie Inglis and the work of the Scottish Women's Hospitals Service in the First World War, but there is barely anything to mark their achievements on home soil.
And while in Serbia Inglis was awarded the Order of the White Eagle – the country's highest honour – in Edinburgh there is just a small plaque honouring her fixed to St Giles' on the Royal Mile where she lay in state after dying from cancer in 1917 and before her full military funeral.
There is her grave in Dean Cemetery, and the hospital she established near Abbeyhill is now a nursing home which still bears her name, but a new campaign is aiming to remember her with something more prominent.
So far, 60 MSPs have backed a campaign by the Scottish Women's Hospitals Committee, which they hope will lead to the Scottish Executive funding a £150,000 statue on the Royal Mile.
The plans have also been backed by doctors at Edinburgh's Royal Infirmary and Princess Anne – although the city council has said that it cannot contribute to the cost of the monument.
To show your support for the campaign, please contact Ian McFarlane on 0131-668 1421, or e-mail i.mcfarlane@virgin.net
source-Scotsman
 There are so many other stories..
Nurse Nellie Spindler
She was one of a handful of brave women to experience the hell of World War I's bloodiest battlefield. Based deep inside the danger zone, nurse Nellie Spindler saw her field hospital flooded with Allied troops injured from day one of the Battle of Passchendale. The Leeds Infirmary sister was part of the small band of Queen Alexander Imperial Military Nurses sent close to the Western Front. Casualty Clearing Stations (CCS) were situated a safe distance away. But Nellie, treating abdominal wounds, needed to be closer to the action to prevent infection. But after just 3 weeks she joined the massive list of fallen heroes.
The Military Medal was awarded to nurse Kate Carruthers for showing bravery in the face of the enemy during the First World War. Miss Carruthers was one of only a few women to receive the award for her heroic efforts in treating the wounded on the frontline. The 30-year-old nurse was stationed on the Western Front in 1917 when her field hospital came under attack. She was injured in the fighting but battled bravely through the pain barrier to continue treating the wounded. In 1917 she became one of only a few women to be awarded the prestigious Military Medal, which was created by King George V in 1916.
At least 23 British women perished in Serbia during WW1, and ceremonies are still held all over Serbia in their memory.
These are wonderful women, all of them – and we should be celebrating them as loudly as we can. They give our daughters and granddaughters role models of rather more use than the empty celebrities they are encouraged to adore.